Aah, the Sesame Street, or Sesamstraße as it is called in Germany. One of the first TV-shows I ever watched, besides Die Sendung mit der Maus. Some weeks ago, I saw the Dutch version of it, called Sesamstraat, on Dutch TV. You know, here in Western Germany we receive some Dutch TV channels via cable TV. And via sat you can watch them all I guess… Anyways, there are so many different international versions of the Sesame Street. Of course I did know that there was a Dutch version, but I had never seen it before. I was curious and watched a complete episode.
Well, the Dutch language is a little messy. I remember that we had some Dutch exchange students in our elementary school and one day I brought two of them at home. My grandma was there and she was able to talk to them. Dutch is not that far away from the Münsterländer Platt, the native dialect in our region… But even with a bit of English you can understand quite much, especially when you read it. It's a messy mix of German, Platt and English.
Anyways, the first thing I noticed was the big blue bird, called Pino. I was confused… But it seems that all resembling international characters are cousins to the original American characters. In the German Sesamstraße we have Rumpel, who is a cousin of Oscar the Grouch, and Feli Filu, who I thought to be the cousin of Grover. But Muppet Wiki doesn't mention it.
But I'm losing the focus on the Dutch version I wanna talk about. I liked what I saw. It was different to the German concept, which nowadays focusses on things like respect and tolerance. There are many human characters from different emigrant countries like Turkey in the Sesamstraße. Such "people" are normal here in Germany and (especially German origined) kids should be confronted which them really early. Beeing from another country is normal!!! The Dutch version seemed to focus more on things like, what if I am afraid, sad, lonely, happy, in love etc. Which is even different to the original American concept of teaching kids letters and numbers.
I also loved that the Dutch version had characters like Elmo, Ernie and Bert. Ernie and Bert also have an apartment in the German version and their own final sketch at the end of many episodes. Elmo just sucks. He frightens me with his own sequences Elmo's World. It's like an LSD trip for pre-school kids… hnng. Like he is talking to his goldfish and all this fish answers is blop.
Seems I have to check out more international versions. The French version 1, Rue Sésame that was ceased from production in the 80ies (and got continued with 5, Rue Sésame some years ago) even contained a snail resembling our Finchen!!!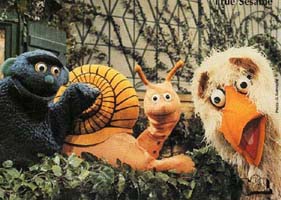 1, Rue Sésame

Finchen, that snail with the glasses
And the Indian version doesn't even use any of the known characters in their frame stories.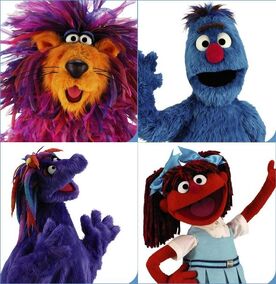 I'm gonna check out more international version of the Sesame Street and write about it when I find anything interesting.
Follow the little red ELMO!!! (gosh, I hate him…)
[source of all images: Muppet Wiki]